Portable monitors are getting more popular these days especially since the "Work from Home" trend started during the COVID pandemic. This has led many to use portable monitors when sitting on a desk for several hours has caused a lot of discomfort inside the home premise.
Portable monitors can cost as low as $100 and they can go easily up to several hundred dollars depending upon their sizes, display quality, technology, etc. So, choosing a good one depends on your needs and what you expect from one.
Today, I am reviewing Intehill's 15-inch Monitor model sent by the company itself. Intehill is a Chinese company that produces portable monitors and their accessories. Although the company doesn't have many of its products available in various parts of the world, this particular model- P15NF is set to hit the market in the USA in a couple of days. This makes it important to analyze if this monitor is worth its price tag of $239 USD.
Packaging and Accessories in the Box
The packing is good and all the accessories were there in the box. Moreover, there were two separate boxed empty sections where you can carry your own charger. The box contains the display monitor, monitor cover, USB Type C to C, Type C to A, Mini HDMI to HDMI port cable, and a User Manual.
Build Quality and Looks
Monitor is very slim and lightweight. Bezels are very thin and the material used is aluminium which gives it a reliable feel. Here are the official specs by Intehill for reference-
Screen Specification
| | |
| --- | --- |
| Type: QLED, Glossy | Refresh Rate: 60HZ |
| Size: 15.6 inch | Color Gamut: DCI-P3 100% |
| Resolution: 1920*1080 | Color Depth: 10bit(8bit+afrc) |
| Ratio: 16:9 | HDR: HDR 600 |
| PPI: 141 | View Angle: 178° |
| Brightness: 500nit | FreeSync: Yes |
| Contrast: 1300:1 | Touchscreen: None |
Monitor Specification
| | |
| --- | --- |
| HDMI: Mini HDMI | Power: 10-15W |
| mini DP: None | Materials: Aluminum |
| USB Type-C: USB-C*2 | Dimension: 355*216*5*10mm |
| OTG: Type-C | Color: Black |
| Headphone Jack: Yes | VESA Mount: None |
| Speakers: Yes | Net Weight: 675g |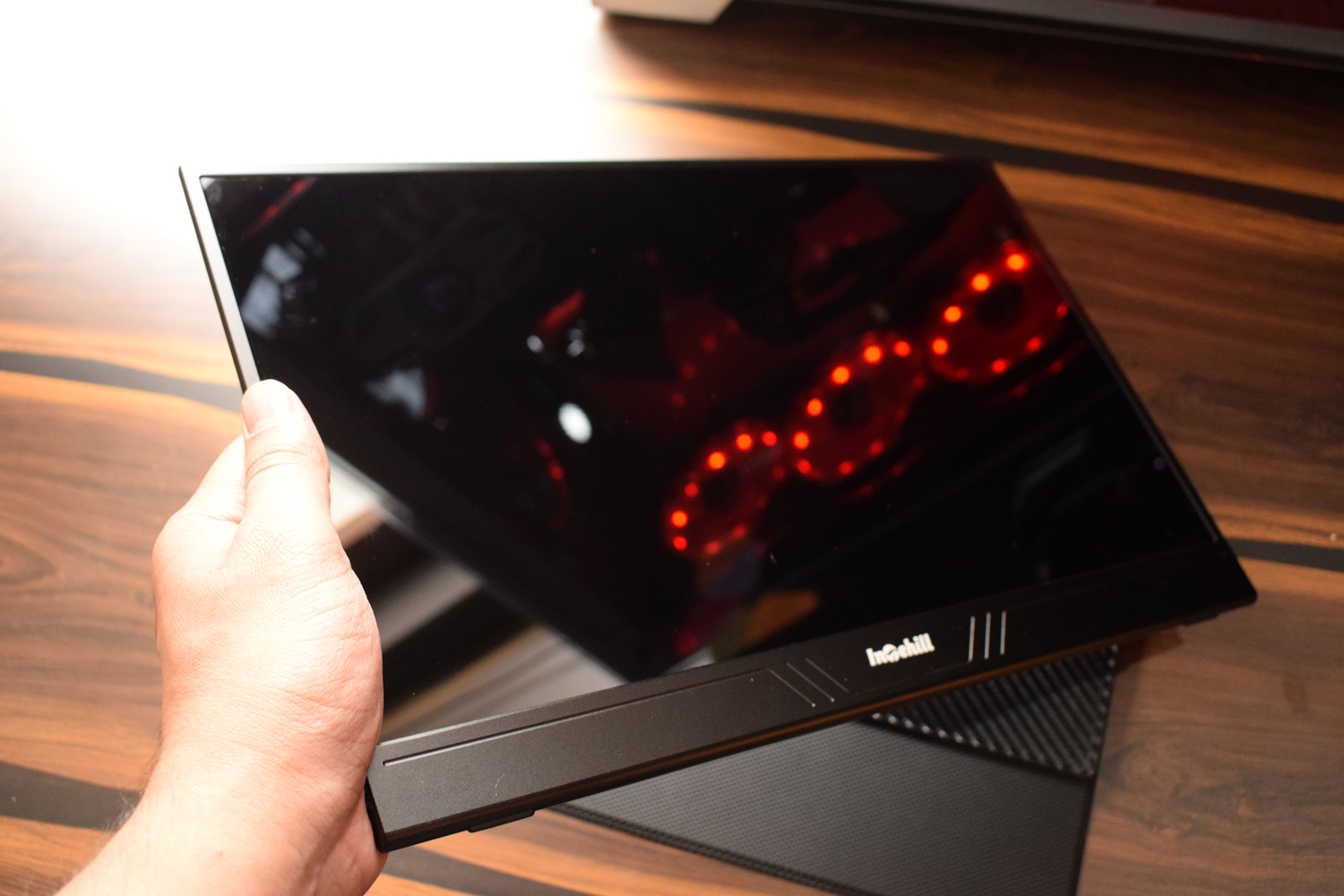 As I mentioned, it's very light and feels even less than 675g. To me, it is easier to carry just as I would carry a paper notebook. The cover that it comes with can be converted into a stand. So, it serves both the purposes of protecting the screen and helping it stand without any external support.
The cover is made up of some sort of cardboard and has a rexine type material on the outside which is properly sealed from all sides. You can adjust the angle between the desk and monitor by adjusting the cover which helps the monitor to stand more erect vertically.
Taking the cover too far from the monitor at the back can lead to instability in standing. This was one of my biggest concerns but thankfully, it if falls, it will fall on its back where the cover will protect it.
Connectivity and the Ease of use

The monitor features dual Type-C ports and a mini HDMI port. Type C ports can either be used for powering up the device through a phone charger or a power bank. A normal 10-15W charger works perfectly, however, Intehill recommends using a more powerful one if your display is turning On and Off regularly.
I personally didn't face any problems with a 15W charger. The other Type C port can be used to connect it to tablets, mobile, etc. while the Mini-HDMI is recommended for desktop computers and laptops. I have got success with getting the display on both laptops and desktop computer but connecting it to mobile phones can be tricky.
-Connecting to a mobile phone
There are a few methods through which you can connect it to your mobile phone. You can use Samsung Dex or you can use a Type C to Mini-HDMI cable. However, the compatibility is limited to only high-end phones. Intehill has listed all the phones that will work out of the box and those which require extra effort.
-Connecting to a laptop/desktop
When you connect it to your laptop through the HDMI cable, it should work out of the box but you might need to use the OSD control on the left which shows three options to choose from- Type C1, Type C2, and HDMI.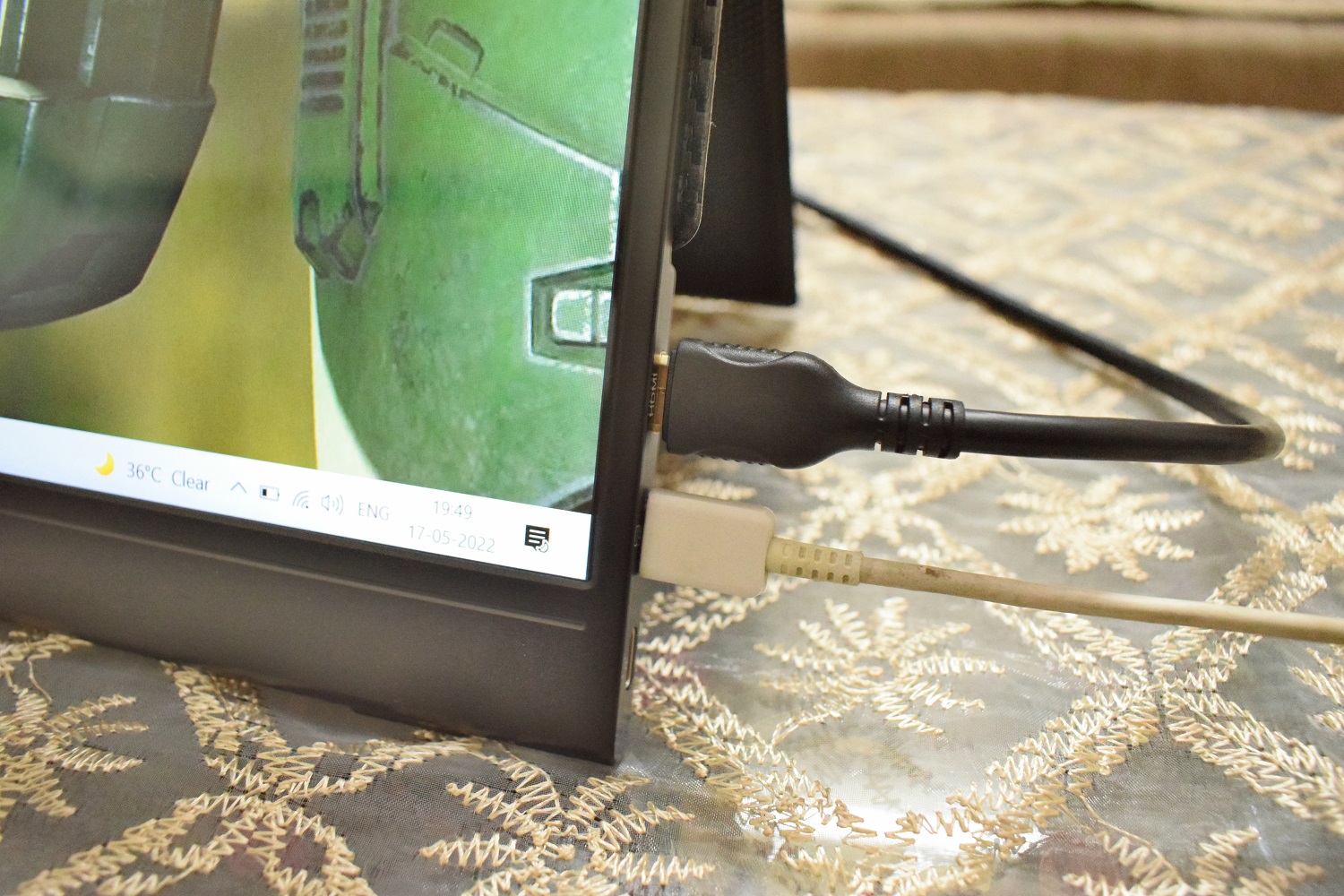 All you need to do is press the button towards up or down to scroll through these options and press the button when the highlight is on HDMI. The button is very small and it hurts the finger a little bit when pressing but that's something you can ignore.
On the same side, you will get two more ports including a 3.5MM audio jack and OTG. Here OTG will serve you the purpose of connecting your peripherals but you will need a separate adapter for that.
It is also easy to power it up using your computer or laptop. All you need is a USB 3.1 Type-A port but if you are using a laptop, your laptop's battery will drain faster unless you switch off your laptop's display.
Display Quality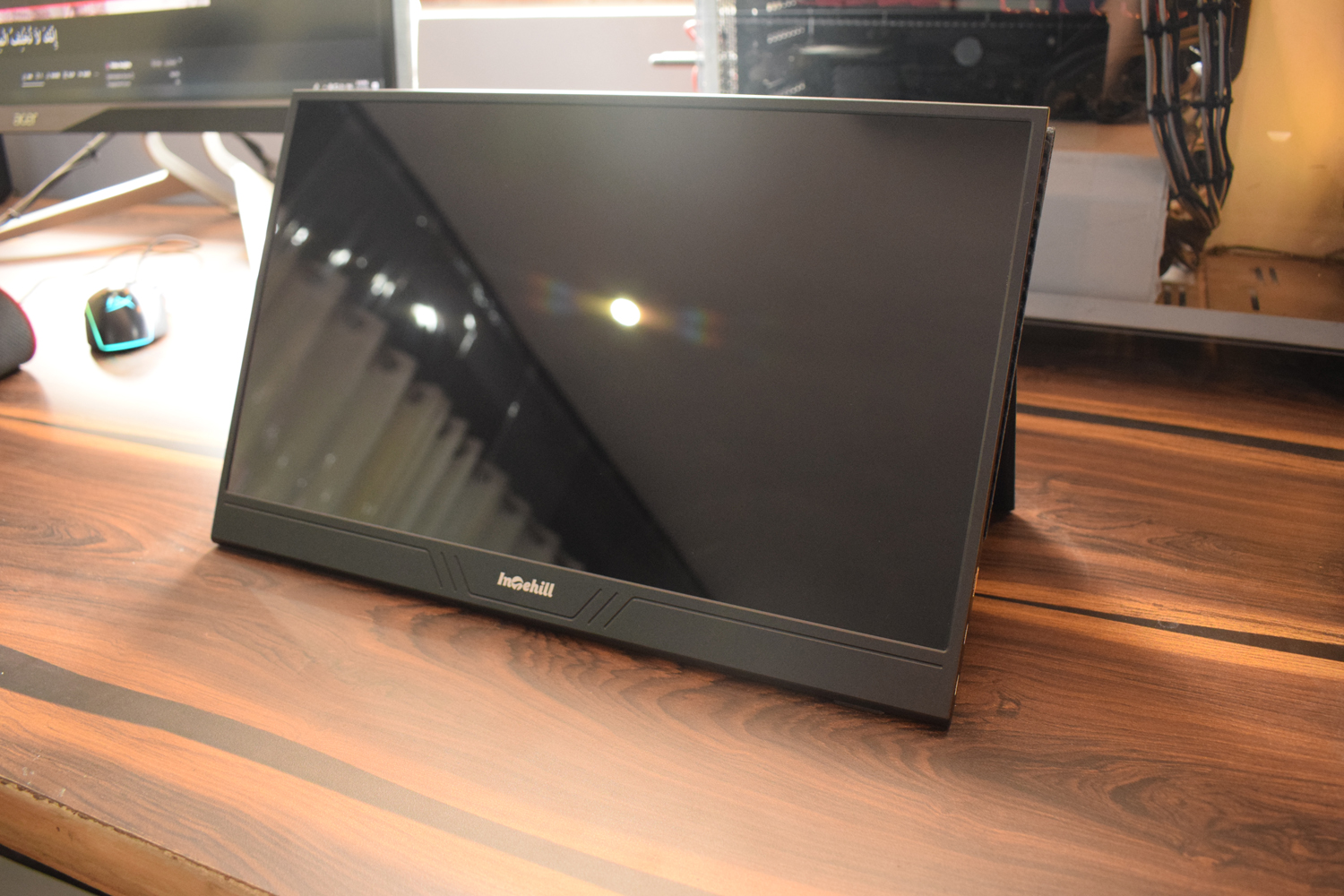 It's important to compare the claims and the actual results for the monitor's display quality to see whether customers will get what they are paying for. Display quality can be checked using various methods. I have explained below how I tested this portable monitor and the results I have got.
Test Methodology
To check if there are any faults in the display and its properties, I used the EIZO monitor test for checking Color Calibration which includes 13 different tests to examine the display properties.
Next, I compared Intehill Portable monitor with different types of monitors, however, it isn't fair to compare it directly with a VA or TN panel as it comes with an IPS panel that is already superior in quality to the other two. So, only direct comparison with an IPS monitor is fair.
I will also play some games on it to see how good the visual quality is and whether it offers a smooth gaming experience at 60Hz.
Intehill's Claim
The company claims that the P15NF portable monitor features an IPS panel with 178°/178° viewing angles and a resolution of 1920 x 1080. The official specs also state that it is an HDR-certified display with HDR 600 and its color gamut is DCI-P3 100%. The monitor also supports AMD FreeSync for tear-free gaming and comes with a standard 60Hz refresh rate. However, the monitor doesn't support the touch screen function.
Display Properties and Examination
Going through all the 13 different EIZO monitor tests, there are no minor or major issues with the display and it passed all the tests perfectly.
The patterns are clear, colors and gradients are uniform, there are no defective pixels, brightness is uniform all across the entire screen, gamma value is 1.3mm, Sharpness is good, viewing angle is indeed 178°/178°, and refresh rate is 60Hz.
Comparison
I reset my monitor and laptop's display to default settings and the same brightness level as Intehill's Portable Display, i.e., 50%. There were no filters used on either screen and here are the results in comparison to my Laptop-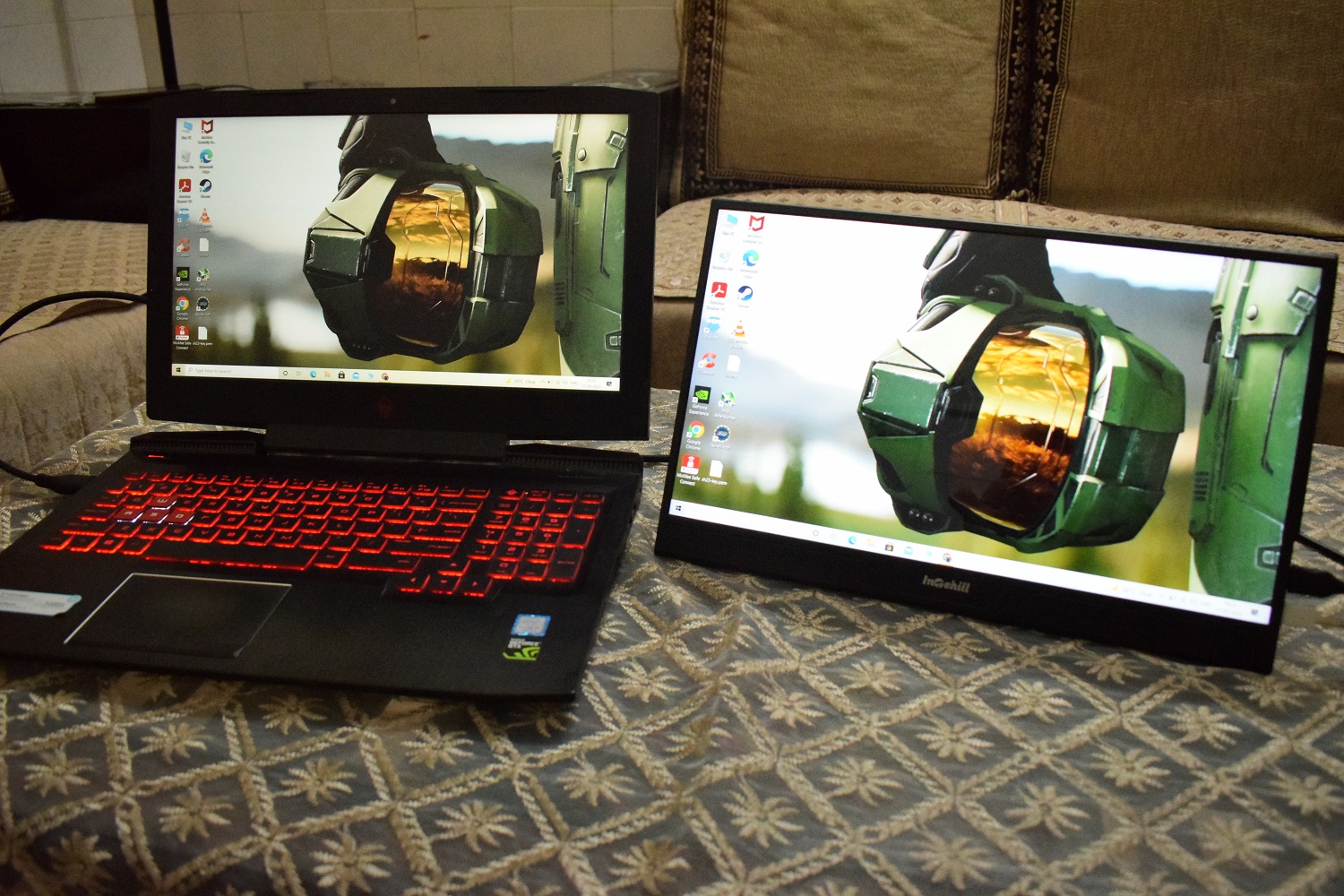 This is an HP OMEN 15 ce070tx gaming laptop. It features a full-HD IPS panel with anti-glare properties. As you can from the image above, the difference is significant and the colors on Intehill's monitor are way more vibrant and accurate. Even the brightness is superior at 50%.
With naked eyes, the difference is even higher and it felt pathetic to look at the laptop's display. It looked dull and lifeless in front of Intehill's monitor.
Next, I compared it to my favorite IPS monitor, The Acer 34 XR341CK. It's a 3440x1440p monitor featuring an IPS panel.
It's a shame that even this high-end IPS monitor that I bought for $1500 cannot compete with this $239 portable display. The differences were large enough and again, the Acer monitor looked dull and the color accuracy of Intehill P15NF is indeed the best I have ever seen. Just as advertised, it is indeed a DCI-P3 100% monitor. The color range is vast and the colors and brightness are uniform across the screen.
Gaming Test
I played a couple of games including Batman Arkham Night and Riders Republic to see if the visual quality is better than my Acer monitor. I also checked the smoothness of the gameplay. Fortunately, they were up to the mark and except for the tearing, I don't have any complaints. However, as it is a Free-Sync compatible display, you can use an AMD GPU to switch on this feature.
Speaker Quality
Intehill P15NF comes with dual inbuilt speakers located at the bottom. These are very small, and I can't find any information on how much power they are rated. Just by looking at them, you can tell that they aren't very powerful.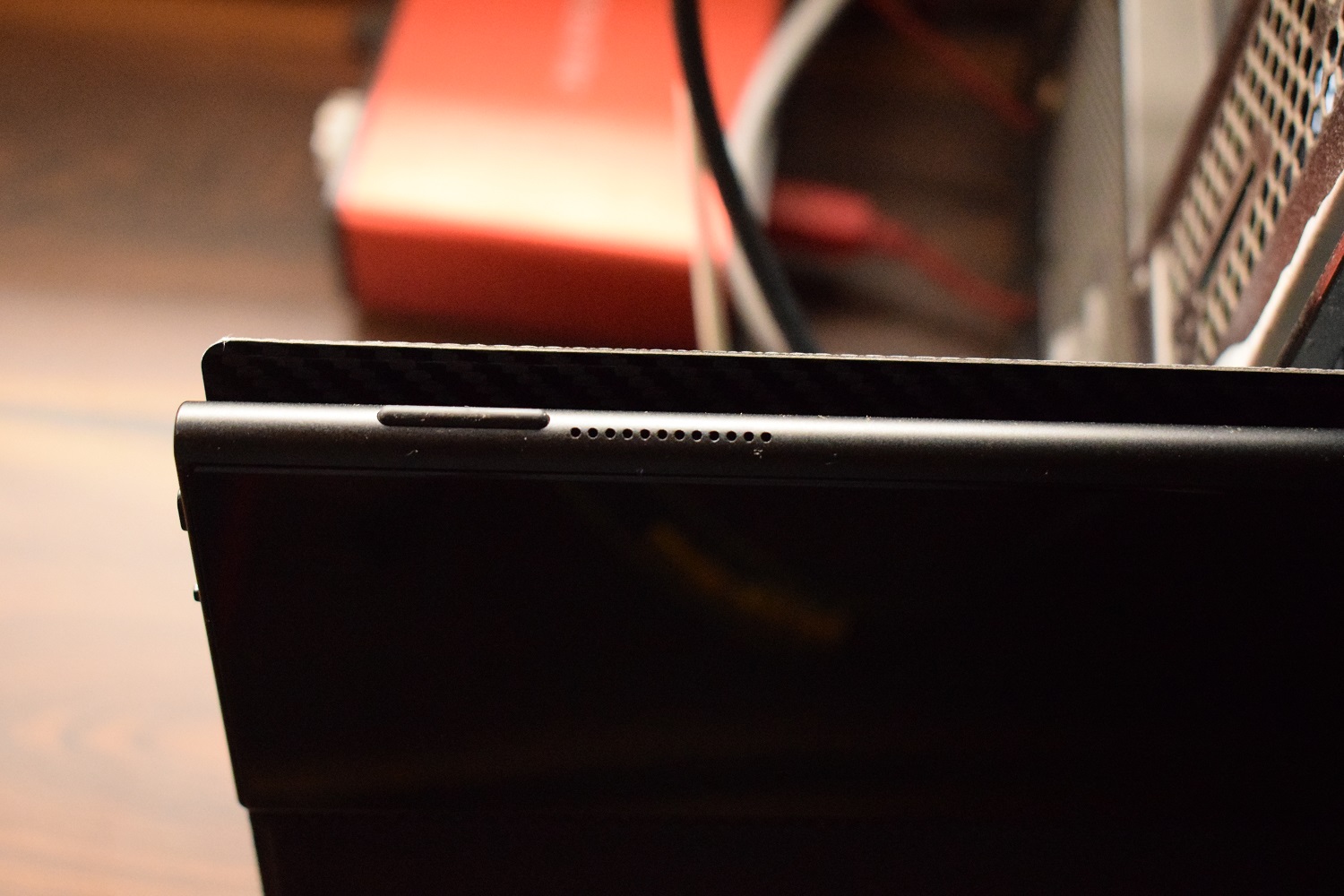 I must say that the speakers' quality is not good enough to be used for gaming or even proper entertainment. These speakers can be used for basic purposes like listening to some lectures or sometimes for music if you are sitting in a quiet place where you don't want to disturb others.
For gaming and enthusiastic entertainment, switch to dedicated speakers or headsets.
Conclusion
There are many portable monitor options starting from $100 USD from different manufacturers. At around $200-$250, I don't think there is any portable monitor that comes close to its display quality. Most portable monitors stay around 300CD/m2 brightness level but Intehill P15NF can go up to 500CD/m2 and comes with a True HDR 600 support.
However, the compatibility issue with mobile phones are there and only high-end mobile phones are ready to work out of the box. Also, the speaker quality isn't good. Except for these two major CONs, there are a lot of PROs that simply outweigh them, and considering how good the visual quality is compared to my high-end monitors, I definitely recommend it for its price.
PROS:
HDR 600 certified display with up to 500CD/m2 brightness
DCI-P3 100% color gamut that features excellent color accuracy
Vibrant colors and great viewing angles
No bleeding and uniform color distribution
Easily powerable with a 15W charger or even laptops
Can be used with Phones, Laptops, and Desktop systems
AMD FreeSync technology for tear-free gaming
CONS:
Inferior quality speakers
Compatibility issues with phones
No-touch functionality
Xremegaminerd Award